International Webinar in Women's Role in Iran and Pakistan held online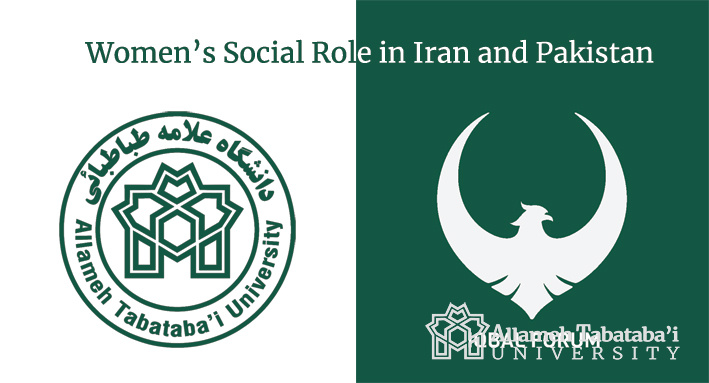 Report by the Directorate for International Academic Cooperation–

On Tuesday, 28 February 2023, the Directorate for International Academic Cooperation, Allameh Tabataba'i University (ATU) in collaboration with Iqbal Forum held an international webinar entitled "Women's Social Role in Iran and Pakistan". The event was the first in the series of webinars to be co-organised by the two institutes.
In this webinar, Dr Anahita Seifi, a Faculty Member at ATU's Women Studies Department and the event's Chair, and Dr Ambar Yasmin, Head of the Persian Language Department at the National University of Modern Languages, Islamabad, delivered speeches on the topic of women and their social roles.
The event was moderated by Dr Ehsan Ekradi, Head of the Office for Developing International Academic Collaborations, and attended by students and professors interested in the topic.
At the beginning of the event, Dr Seifi delivered a brief welcome speech and introduced the guest professors from Pakistan. Then, Dr Yasmin presented a speech entitled "Empowering Women in the Iranian and Pakistani Societies: Challenges and Solutions". She discussed the challenges faced by women in Iran and Pakistan, women's social role, and their empowerment based on Islamic models. She noted that Islam is the only religion that awards women with the highest possible rank and explicitly recognised women's rights in the Holy Quran.
Subsequently, Dr Seifi presented her speech entitled "Empowering Women with an Emphasis on Their Rights to Education". Referring to the provisions of the IR Iran's Constitution in supporting women, she responded to the basic question regarding the fundamentals and mechanisms of women's right to education as an empowering right in the Iranian Constitution. She maintained that the development of appropriate educational spaces and centres which provide free education and the women's ability to have economic access to education are among the support mechanisms provided in the constitution of the IR Iran and other human-rights documents concerning the right to education. She then summed up, saying that, as a social capital, women have a significant portion of any society.
Pointing to the lack of job opportunities, low educational levels, and lack of legal protections as the most fundamental barriers to women's empowerment, Dr Saifi noted that the major factors affecting women's empowerment are their inolvement and participation in economic activities and other individual and social factors. Accordingly, policy and decision makers in the field of women should look for ways to increase women's motivation with the aim of unearthing and cultivating their talents and creating the necessary grounds to make the most of their talents.
At the end of the webinar, the moderator summarized the major contents and a QA session was held for the participants.