Chinese Calligraphy Competition winners receive their prizes in a ceremony
In a ceremony held on 14 June 2022, winners of the Chinese Calligraphy Competition received their prizes from ATU President and the Ambassador of China in Tehran.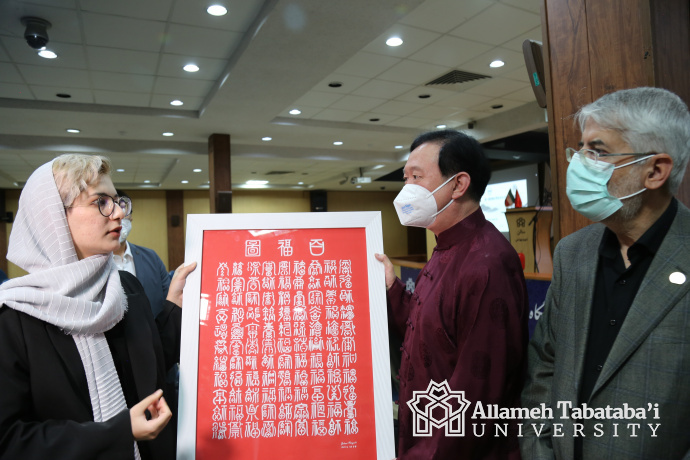 Report by the Directorate for International Academic Cooperation –
(Source: ATU's Public Relations)
Following the successful organisation of a Chinese Calligraphy Competition at ATU, a ceremony was held on 14 June 2022 at the ATU Faculty of Law and Political Sciences and the winners received their prizes from the President of Allameh Tabataba'i University and the Ambassador of China in Tehran.
Pointing to China's central political and economic position in the world, Professor Motamedi said "One of the Islamic Republic of Iran's strategic policies is to expand its relations with China, and, for the same reason, academic relations with China are important to us. Allameh Tabataba'i University has already signed MoUs on academic and research cooperation with more than eight universities from China".
Motamedi then added, "An important indicator highly effective in the transfer of cultures is the literature of every nation. Chinese and Persian literatures are rich in great figures like poets, philosophers, and thinkers who have produced valuable, canonical works that have survived owing to their connection with human nature."
ATU President then added that this major human heritage can be transferred to other nations through language: "With language, we think and convey our intentions and thoughts to others. We are pleased that ATU has been offering the Chinese language programme at Allameh Tabataba'i University, and we hope we can offer this programme at the postgraduate level as well. ATU is prepared to use Chinese language professors, and we would like to send our Persian language professors to China to teach the Persian language and establish Persian language chairs in China."
Next to Dr Motamedi, the Chinese Ambassador to Tehran appreciated the efforts made at Allameh Tabataba'i University and said "Several beautiful calligraphic works were selected in the competition, indicating the excellent level of Chinese language teaching in Iran and the extraordinary talents of Iranian students. This is of particular importance in the development of Chinese language teaching in Iran."
The Chinese Ambassador then expressed his gratitude to all the professors, instructors and actors in the area of Chinese language teaching and said that the present satisfactory condition we see in the teaching of the Chinese language in Iran is due to their careful, continuous work and painstaking research. He then hoped that Chinese language education in Iran will reach higher levels and lead finally to more solidarity and empathy between the nations of Iran and China.
The prize winners' names are as follows.
First Prize
1. Farnoush Sami
Second Prize
2. Parnian Parhizgar
3. Motahareh Salari
Third Prize
4. Bahar Moayedi
5. Fatemeh Khairandish
6. Nazanin Manouchehri
Commendable Works
7. Fatemeh Behzadnejad
8. Kowsar Radmanesh
9. Parisa Safarpour
10. Hadis Jahanbakhshi
11. Sara Tabatabai
12. Fatemeh Rastgou
13. Hannaneh Faridi
14. Fatemeh Saeedi Chaharbaghi
15. Yousef Naderi
16. Mahsa Biglari Azizabadi
It should be added that Allameh Tabataba'i University held the first Chinese Calligraphy Competition for Chinese language students at Iranian universities in April 2022. You can read the related story here.