Venezuela's Deputy President for Culture and Tourism visits ATU
On 13 June 2022, Mr Freddy Alfred Nazareth, Venezuela's Minister of Communication and Information and the Deputy President for Culture and Tourism visited ATU and met Dr Motamedi.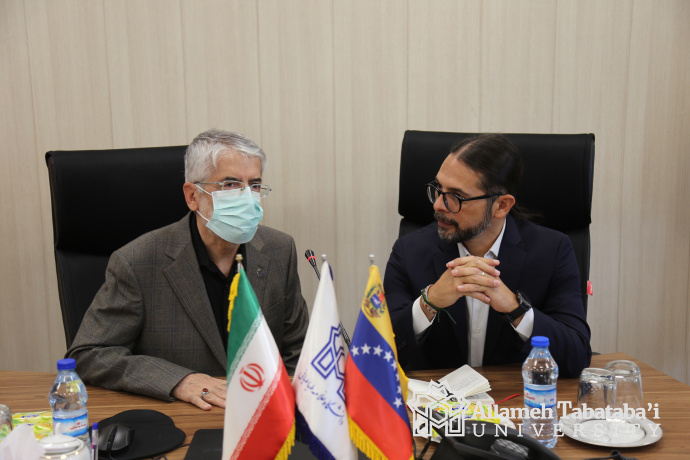 Report by the Directorate for International Academic Cooperation –
(Source: ATU's Public Relations)
On Monday, 13 June 2022, and during Nicolás Maduro's visit to Tehran, Mr Freddy Alfred Nazareth, Venezuela's Minister of Communication and Information and the Deputy President for Culture and Tourism visited ATU and met Dr Motamedi.
At the beginning of the session, Dr Abdollah Motamedi, ATU President, welcomed the Venezuelan guest and said, "I hope the meeting provides a basis for effective academic partnerships between Iran and Venezuela. Being about 65 years old, Allameh Tabataba'i University was created by merging several educational complexes and institutes. It is named after the late intellectual and philosopher, Allameh Seyed Mohammad Hossein Tabatabai".
Professor Motamedi then added that "Given the similar political orientations shared by Iran and Venezuela and the close political ties between the two countries in the recent years, the ties can also expand in the area of academic activities. Allameh Tabataba'i University is specialised in Humanities and Social Sciences. Therefore, owing to this capacity, we are prepared to cooperate with the universities of Venezuela, and I hope these visits provide the ground for further effective communications".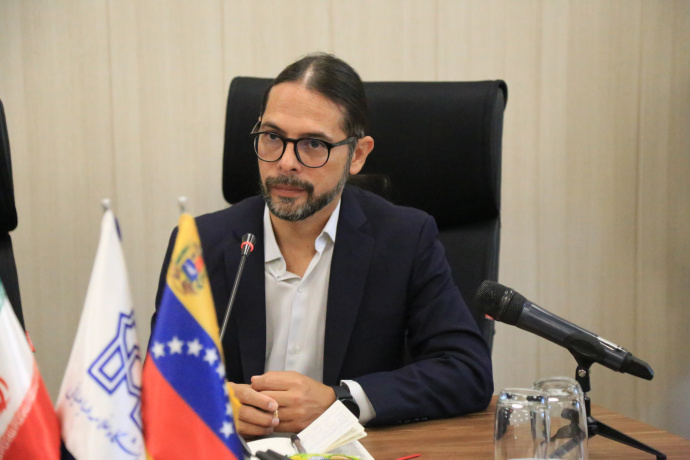 "I would like to talk about my revolutionary ideas in the countries that want to maintain their authority and independence," said the Venezuelan Minister of Communications and Information. He then added, "President Nicolas Maduro has come to Iran to talk about a historic change. There are three conditions for this historical change to take place. The three conditions include the structural condition and reforms in the capitalist system; the pandemic that started as a biological war; and a revolution in the fields of technology and communications."
He emphasized that the Western capitalist system, created by abusing human capital and natural resources, must be reformed. The capitalist system intends to destroy the countries' cultural identities by abusing their emotions.
Nazareth then added, "The pandemic showed how it can be used to paralyze the world. A pandemic can have two effects, the first being that it can separate lands and the second is the loss of a sense of sociality and togetherness".
Pointing out that the third condition is the revolution in technology and communications, he continued: "The three conditions must be considered as an interconnected system. In my opinion, social networks are like laboratories that intend to create new human beings; human beings belonging to no land and having no identity."
Nazareth then stressed: "Iran and Venezuela want to have relations, and universities play an important role in establishing these ties. Besides building new economies and policies, our revolutions must be based on a profound spiritual logic. This is where Islam shines because Islam is much more than a religion. Islam is a guide for man to find their place in the world."
Nazareth concluded that "We must pay serious attention to the translation of the Qur'an and the literature related to our revolutions. We must motivate the world with our resistance to superpowers and build our own cultural, political, and identity theories. I strongly believe that we can succeed in this direction."