ATU Nominated as the "Iran Chapter" of the AsianSIL
26/11/2016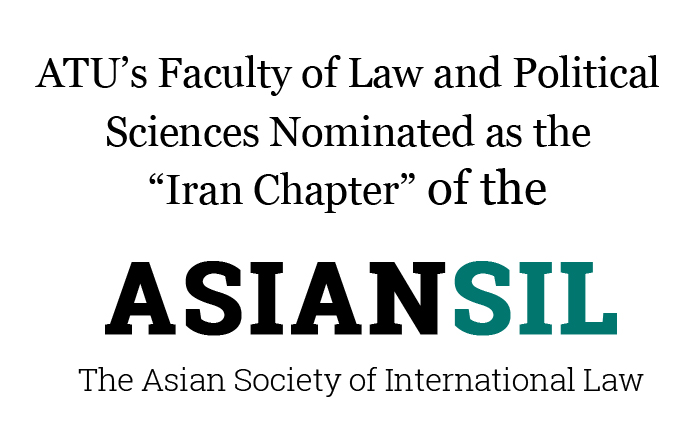 ATU Nominated as the "Iran Chapter" of the AsianSIL
Directorate for International Academic Cooperation -
ATU's Faculty of Law and Political Sciences (LPS) hosted a delegation from the Asian Society of International Law (AsianSIL) on 21 November, 2016. The parties signed an MoU on academic cooperation, and discussed further collaborations.
The session was convened in ATU's LPS Faculty with the presence of Dr Mirsaeedi, LPS Dean; Professor PAIK Jin-Hyun, President of the AsianSIL and faculty member at Seoul National University; and other faculty members and students from ATU. Dr Mirsaeedi first welcomed the participants and presented a brief overview of his respective university. He then pointed to the cultural affinity of the Iran and the East Asian states, saying: "There is a especial point in this MoU, and it is the legal and cultural relation between the two parties which differs from that of the European nations." He then described this cooperation as an "intra-continental one" and hoped this would bring about improvements in the ties between these ancient Asian civilizations. The session was concluded with the parties signing an MoU and ATU was appointed as the only "Iranian Chapter" of the AsianSIL.
Established since 2007, the AsianSIL is an international non-partisan, prostate non-profit and non-governmental organization aiming at promoting research, education and practice of international law by serving as a centre of activities among international law scholars and practitioners in Asia and elsewhere, in a spirit of partnership with other relevant international, regional and national societies and organizations; fostering and encouraging Asian perspectives of international law; and promoting awareness of and respect for international law in Asia.
Close
Search in ATU news archive
MORE NEWS

Jan. 2, 2021
Dec. 26, 2020
Dec. 12, 2020
Dec. 12, 2020
Nov. 14, 2020
News Archive